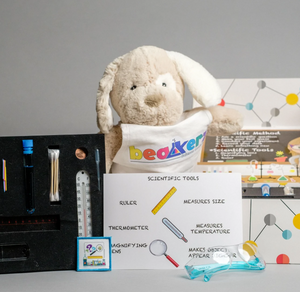 At-home Science Activities & Experiments
Looking for a way to bring science lessons into your home?

Beakerz Science boxes offer engaging and fun science lessons for Pre-K through 4th grade.

Each box includes 4 lessons with activities and videos with Professor Beakerz!

Lessons focus on foundational science concepts, preparing students for the ever-growing STEM needs and challenges around them.
Shop All
Why Beakerz Science?
Your students will grasp scientific concepts through fun and engaging experiments!
BEAKERZ SCIENCE IS INSPIRING: WITH INTERESTING TOPICS AND CONCEPTS, OUR TAKE-HOME PACKETS WILL INSPIRE YOUR STUDENTS TO EXPLORE THE WORLD AROUND THEM WITH INQUISITIVE AND EXPECTANT MINDS.
BEAKERZ SCIENCE IS IMMERSIVE: BY PERFORMING ACTUAL EXPERIMENTS BASED ON THE SCIENTIFIC METHOD, YOUR STUDENTS WILL BE CAPTIVATED AND ENCHANTED BY THE WONDERS OF SCIENCE!
BEAKERZ SCIENCE FOSTERS INSIGHTFUL THINKERS FOR THE FUTURE: BY EXPLORING A WIDE ARRAY OF SCIENCES THROUGH FUN LESSONS FILLED WITH EXPERIMENTS AND ACTIVITIES, YOUR STUDENTS WILL PERCEIVE THE WORLD IN A WHOLE NEW AND EXCITING WAY!
Our Happy Customers!
Another amazing kit! My daughter loves these. They build on each other and are so fun to drive STEM learning. The videos included also make the experiments easier on the parents. Love!!

Melinda
This is my third box purchase and they're all amazing. Just buy it. If you have a 4-7 yr old kid it's awesome!

Ashley
Everything you need is included in the box. My child asks to do science every day (sometimes more than once a day!) If you don't know anything about science this is the best place to get your kits! Professer Beakerz has fun engaging video lessons. Thank you!

Jessica, California